---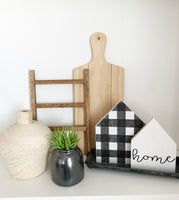 Each piece of wood is carefully picked out by hand and may have slight imperfections such as knots, nicks, cracks and holes. We like to consider these natural imperfections unique, which adds character to each individual wooden house. Your houses will also be painted and stained by hand. Each piece of wood will take stain and paint differently. Which is why we ensure that no two houses are exactly the same.
Set of two solid wood houses. These are made to lean or stand alone.

•Large size  is approximately 9 1/4" x 7 1/4" The house is covered in high quality paper (not painted) & then has the edges distressed.

•Small size is approximately 7" x 5 1/2". The house is painted by hand and distressed on the front. Words are vinyl.

*PLEASE ALLOW UP TO 3-5 BUSINESS DAYS FOR YOUR ORDER TO BE SHIPPED. US SHIPPING ONLY